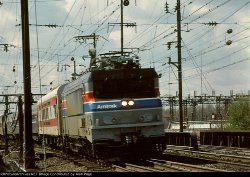 Welcome to the RRPictureArchives.NET contributor site of Alan Page.



My earliest memories were within sight and sound of the PRR's Trenton Cutoff in our Cape Cod house in Hatboro, PA.

My dad was the son of the chief draftsman for the Pennsylvania Reading Seashore Lines, and he grew up near the PRR and Reading's commuter stations in Chestnut Hill, PA. He passed on his love of trains to me by giving me his huge roll of PRR calendar paintings that his dad received every year, a 1941 copy of Trains in Transition by Lucius Beebe, a box of 3x5 photos of steam and diesel locomotives, and by telling me stories of his railroad adventures. A favorite story was of the times he walked over to the Reading Chestnut Hill terminal where the steam crews allowed him to help them turn their small steam locomotives around on the hand turntable for their return trip to Reading Terminal.

High school began a great railfan experience as I walked up and over the Trenton cutoff on my way to school. I saw GG1's, E44's, and PC diesels that otherwise I only heard rolling through during summer nights. Thanksgiving was a highlight of each year when my family drove across the Susquehanna river near Rockville Bridge, and passed Enola yard on our way to my Aunt and Uncle's home in Harrisburg!

In those years my first job was at the local hobby shop, earning me enough to finance HO modeling and some slide film to begin railfanning using my dad's old Brownie camera. For my first picture, though, my friend lent me his Kodak Instamatic and I was able to capture a PC GG-1, my all time favorite locomotive, on the Trenton Cutoff!

Soon after, my dad allowed me to drive his '73 Plymouth Scamp, and my friend and I were able to visit our first railfan spot at Abrams yard on a snowy day in January, 1977. The former Reading Lines yard became a favorite, but soon after we visited Morrisville, Allentown, Enola, and other parts of the new Conrail. Along the way we found colorful mixes of RDG, PC, EL, and LV power, a few GP-38's of my granddad's Pennsylvania Reading Seashore Lines, many high speed GG-1's on the NE Corridor, and Alco RSD12's and RS-11's belching smoke at Morrisville.

Once able to purchase an SLR camera in February, 1977, I quickly learned to manually focus, set the light, and frame a shot while old Alco's and high speed electrics rolled by. In all that excitement, my railfan buddy and I were able to capture some great memories of the colorful early years of Conrail, as well as the D&H, Chessie System, Amtrak, RF&P, some New England roads, and some amazing steam excursions.

Those many trips from my senior year in high school through my years at Penn State were great adventures. Searching for sites with maps (no GPS!), driving many hours, and climbing up rock walls were all worth it. Security was much different then, with friendly crews and terminal workers, and it didn't help being considerate, safe and respectful as well! The only time we were told to leave was by Union Steel police in Pittsburgh, and this was for standing on a public road overlooking their roundhouse!

My old Kodachrome 64 slides held up pretty well for being preserved over 3 decades!

Being away from railroad life from 1988 – 2011 raising a family in an area without any local trains, I've been able to begin again capturing CSX and BNSF operations after relocating to Atlanta. I hope my contributions add to the great railroad memories past and present provided by the terrific photographers at RRPictureArchives.

You may browse my collection of pictures via the menu located on the left hand side of the page. I hope you enjoy the collection and thanks for stopping by!